The iPhone 8 and iPhone 8 Plus are now on sale (and we can findimportant differences between them), but we will have to wait longer for the iPhone X. The iPhone X is also more expensive than the iPhone 8, so… is it worth the substantial extra outlay?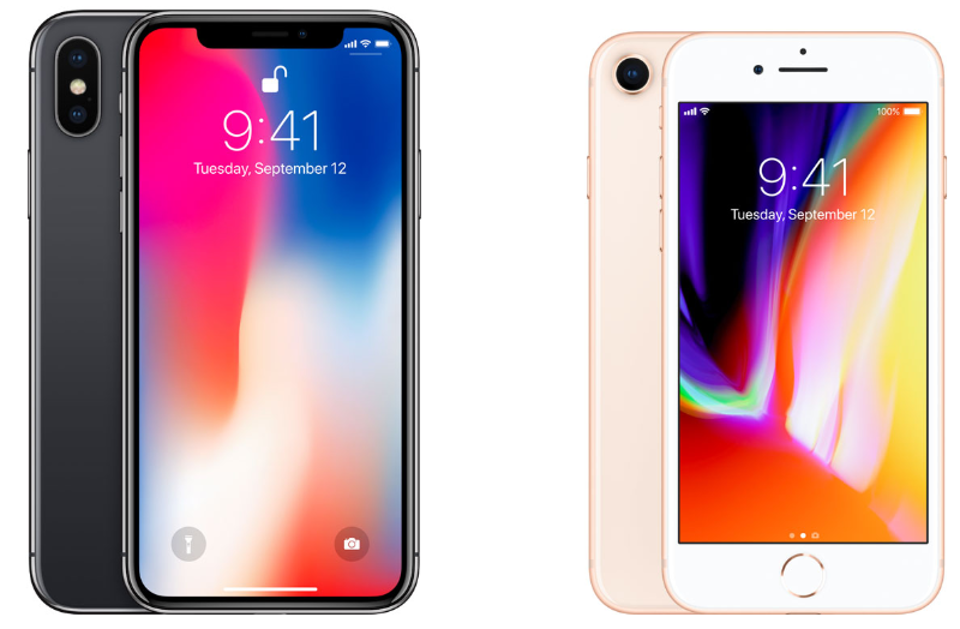 Displays
We start comparing the iPhone X display and iPhone 8 display…
iPhone X – 5.8-inch 18.5:9 True Tone OLED, 2436 x 1125 pixels (458 ppi), 82.9% screen-to-body ratio
iPhone 8 – 4.7-inch 16:9 True Tone LCD, 1334 x 750 pixels (326 ppi), 65.6% screen-to-body ratio
The iPhone X display is larger, while the shift to OLED delivers a much greater contrast ratio (1,000,000:1 vs 1,400:1) and power savings. Meanwhile the increased resolution and pixel density of the iPhone X are the highest ever seen on an iPhone.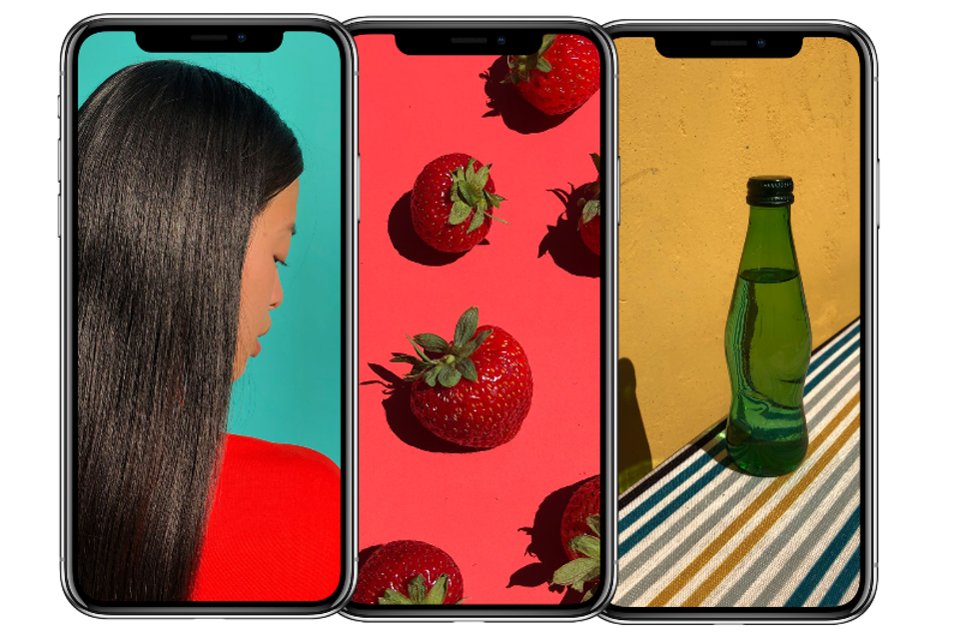 Where the iPhone 8 does match the iPhone X is support for Apple's True Tone technology and High Dynamic Range (HDR) content which is appearing on iTunes, Netflix and Amazon.
The iPhone X is merely playing catch up to its rivals with the Samsung Galaxy S8, LG G6 and Google Pixel 2 XL all delivering similar specifications this year as well as higher 2K (2960 x 1440) resolutions.
Design
Comparing iPhone X screen and iPhone 8 screen sizes suggests the former should be huge,
iPhone X – 143.6 x 70.9 x 7.7 mm (5.65 x 2.79 x 0.30 in) and 174g (6.14 oz)
iPhone 8 – 138.4 x 67.3 x 7.3 mm (5.45 x 2.65 x 0.29 in) and 148g (5.22 oz)
Yes the iPhone X may be slightly taller than the iPhone 8, but it is barely any wider or thicker and only 17% heavier.
But the iPhone X is not perfect. Its display has a large 'notch' at the top for Face ID which makes viewing full screen photos and video a little odd and it has lost the Touch ID fingerprint sensor altogether to free up the front of the phone for that massive display.
Both also retain the Lightning port . The iPhone X comes in Silver and Space Grey, while the iPhone 8 comes Gold too.
Performance
While the iPhone X and iPhone 8 are deliver almost identical performance
iPhone X and iPhone 8 – Apple A11 'Bionic' chipset: Six Core CPU, Six Core GPU, M11 motion coprocessor, 3GB RAM (iPhone X), 2GB RAM (iPhone 8)
The extra RAM may seem important, but with the iPhone 8 driving a lower resolution screen and a single lens camera (again more in the Camera section) the real world performance of the two iPhones will be pretty much identical.
But what about the 'Bionic' part? Touch ID has been replaced from the iPhone X and replaced by Face ID facial recognition.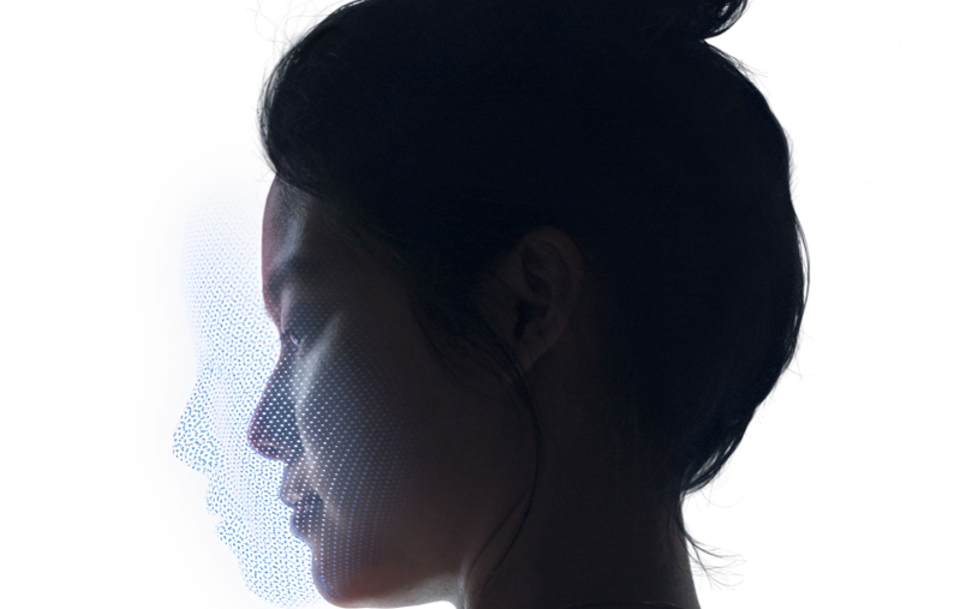 To date facial recognition used by the likes of Samsung has been poor, but the Bionic chip in combination with new sensors on the front of the iPhone X (which cause that notch) can accurately map a user's face in 3D which means it should be both reliable and unable to be fooled by photographs or even (Apple points out) masks.
As for the iPhone 8, it misses out on Face ID but keeps Touch ID. Here tou have to choose one option.
Cameras
Another important area of difference between the iPhone X camera and the iPhone 8 camera are their cameras.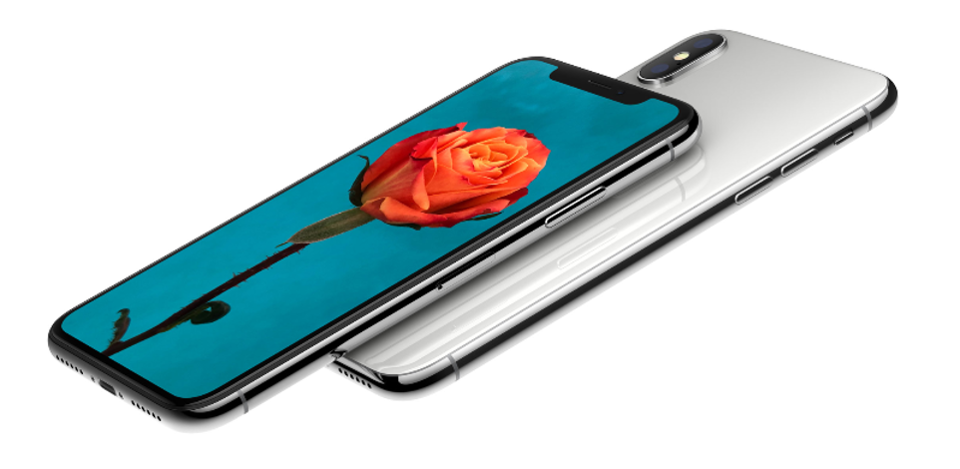 Like the iPhone 8 Plus, the iPhone X has a 12 megapixel telephoto lens which enables 2x optical zoom. This is great for zooming in on photos in good light and should be better than the dual camera on the iPhone 8 Plus as it has a faster aperture (f/2.4 vs f/2.8) and optical image stabilisation (OIS). It is also what enables Portrait Mode.
Elsewhere, however, the iPhone X and the iPhone 8 are identical with a primary wide-angle rear 12 megapixel, f/1.8 aperture camera with OIS and a 7 megapixel, f/2.2 aperture front facing camera (no OIS).
If these specs sound familiar that's because they match the iPhone 7 and iPhone 7 Plus, though Apple claims the A11 Bionic will compensate for this. The chip has an Apple-designed ISP (Image Signal Processor) which improves pixel processing, low-light autofocus and noise reduction. The iPhone X will also use its Face ID sensors to deliver Portrait Mode on the front camera.
Battery Life And Charging
For all their internal improvements, where the iPhone 8 will disappoint is its battery life. iPhone 8 battery life
Apple claims the iPhone X will last "up to 2 hours longer than iPhone 7".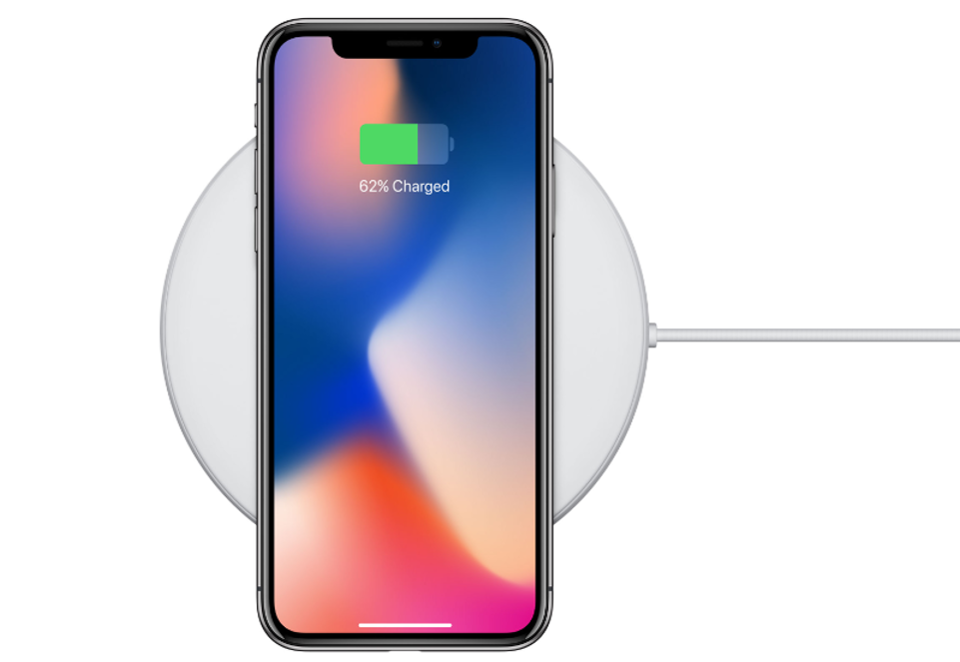 Rather more exciting, however, is charging. Apple finally added wireless charging and wired quick charging to all its new iPhones. The former works with Qi chargers (though only at a slow 7.5 watts) while the latter delivers up to 50% charge (from flat) in just 30 minutes.
The problem is Apple doesn't supply quick chargers when you buy your device and they are expensive.
Storage And Price
Here comes the painful part. The good news is the iPhone X and iPhone 8 all start at 64GB this year with 32GB biting the dust. The bad news is there are now just two storage options and while the iPhone 8 has increased $50 against the iPhone 7, the iPhone X takes Apple's pricing into a whole new stratosphere.
Iphone X price and IPhone X price
iPhone X – 64GB ($999), 256GB ($1,149)
iPhone 8 – 64GB ($699), 256GB ($849)
The iPhone X is $300 more expensive than the iPhone 8 and $200 more than the iPhone 8 Plus at the same storage capacities, before tax. Again this makes Apple's omission of a fast charger in the box quite extraordinary (and the fast chargers don't come with a cable, which in turn is different from the cable Apple bundles with the phones).
Whether these prices are justifiable will be entirely down to each customer's bank balance, but most will gain some solace from spreading the cost over a two year carrier contract.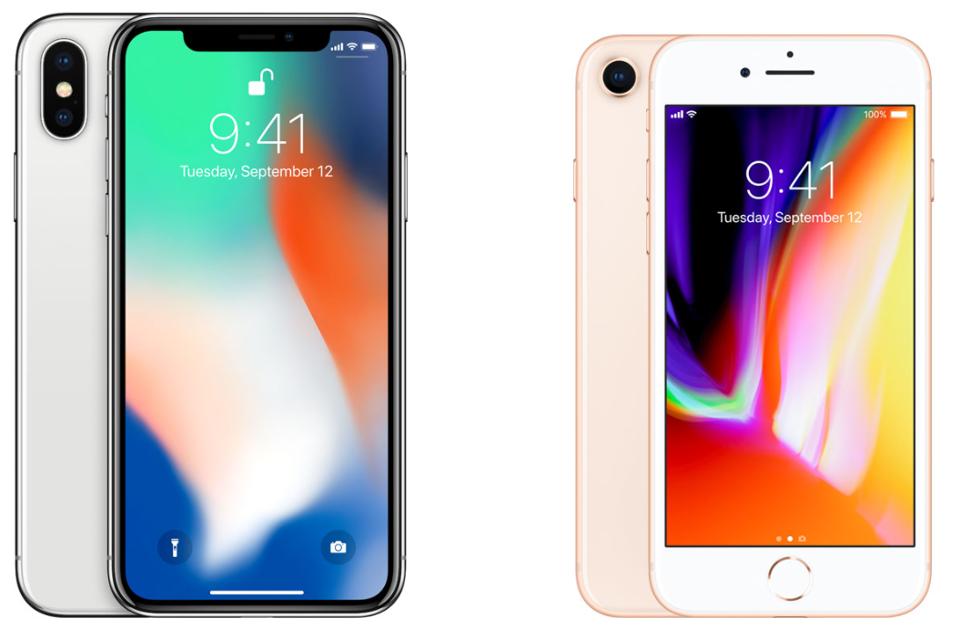 Bottom Line
2017 will be remembered for the year of the iPhone X not the iPhone 8. The iPhone X fundamentally changes iPhone design for the first time since the original phone launched in 2007 and it may revolutionise how we log into our smartphones. That said, the iPhone 8 may prove a smarter buy.
For $300 less users will get a phone which has virtually identical performance, photography and charging as well as similar battery life. You won't get the larger display, you won't get Face ID but you will get Touch ID which the iPhone X lacks.
All of which means your choice comes down to one question: How much are you willing to pay for that new design…?
iMonsterParts – Source text and images: https://www.forbes.com/