The iPhone 8 is obviously better than the iPhone 7 in every aspects but something happens with the battery capacity. The battery on Apple's iPhone 8 is up to 8 per cent smaller than that on iPhone 7 2016, even when the new phone boasting similar battery life.
Figures published by TENAA, the Chinese wireless regulator, showed that the batteries in the iPhone 8 and iPhone 8 Plus have capacities of 1,821 and 2,675 milliampere hours (mAh) respectively, compared to the 1,900 and 2,900 mAh of the iPhone 7 and 7 Plus.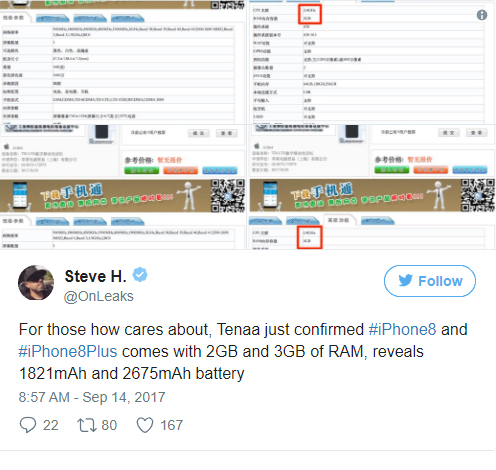 Apple says both of them should last "the same" as their predecessors models. Apple typically does a good job at battery due to software, this is why the size is smaller. Is an awesome feeling to know your expensive new phone features this little problems from the begining, especially when battery life is so important for the device satisfaction.
Google and Samsung, prioritize larger batteries. The Pixel and Pixel XL models from last year have 2,770mAh and 3,450mAh batteries, respectively, while the Galaxy S8 and Galaxy S8 Plus feature 3,000mAh and 3,500mAh batteries. Apple's devices last about as long as those devices, though. So even though the company doesn't include the largest batteries available, its phones don't seem to be suffering.
Apple often changes the size of batteries in its iPhones, even on models with similar dimensions. When it released the iPhone 6s two years ago, the battery was slightly smaller than its predecessor to make room for the introduction of 3D Touch. The absence of the headphone jack in last year's iPhone 7 was meaning Apple was able to fit in a bigger battery.
Is no clear why Apple has reduced the size of the battery in the iPhone 8, but space is always at a premium inside smartphones. Since the battery is one of the biggest components, new additions to the phone often mean shaving down its size.
iMonstersParts – Source: http://www.telegraph.co.uk/