Last week, Apple released new system IOS 11 and some feedback about it.
Some LCD screen in the market couldn't be compatible with IOS 11 but about LCD screens that iMonster Parts sell, our QC team tested them with IOS 11 system.

La semana pasada, Apple lanzó el nuevo sistema iOS 11 y algunos comentarios sobre ello.
Alguna pantalla LCD en el mercado podría no ser compatible con iOS 11, pero sobre las pantallas LCD que iMonsterParts vende, nuestro equipo de control de calidad las ha probado con el sistema IOS 11.
The qualities we sell are compatible with IOS 11. We have already tested LCD screen for IPhone 5/5s/5c/6g/6s/6s plus/ 7/ 7 plus and all of them are working.
Las cualidades que vendemos son compatibles con IOS 11. Ya hemos probado la pantalla LCD para iPhone 5 / 5s / 5c / 6g / 6s / 6s plus / 7/7 Plus y todas están funcionando.
However, for iPhone 7/7 Plus, upgrade to IOS 11, when we have tested the screen, we noticed that 3D touch cannot work and it takes long time to open an APP.
Sin embargo, para el iPhone 7 / 7 Plus, actualiza a IOS 11, cuando hayamos probado la pantalla, notaremos que el 3D touch no funciona y emplea mucho tiempo abriendo una APP.

We tested different quality, also original screen… Hemos probado diferentes calidades , también pantallas originales…
Really the iPhone 7/7 Plus screen hasn't quality problem. When you install the screen to Phone mainboard, the screen works without problems.
Realmente la pantalla del iPhone 7/7 Plus no tiene problemas de calidad. Cuando se instala la pantalla en la placa base del teléfono, la pantalla funciona sin problemas.
But, during test, we also found a solution in order to solve it. Pero, durante la prueba, también hemos encontrado una solución para resolverlo.
Before testing: Antes de la prueba:

1.- Before you turn on iPhone 7/7 Plus, please you need to plug in the sensor and front camera flex cable on the mainboard and LCD screen as well. The screen will be good and 3D touch works well.If you turn on the phone, without regard to this, you couldn't delete or move the app and 3D touch function could't work.
1. Antes de encender el iPhone 7/7 Plus, debes enchufar también el sensor y el cable flexible de la cámara frontal en la placa base y en la pantalla LCD. La pantalla funciona y 3D touch funciona bien. Si enciendes el teléfono, sin tener en cuenta esto, no podrías eliminar o mover la aplicación y la función 3D touch no funcionaría.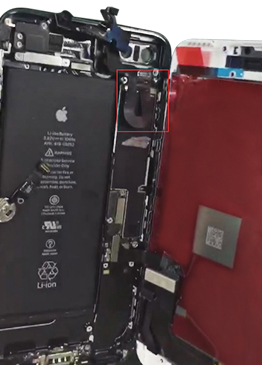 2.- Turn on iPhone 7/7 Plus, will take you between 4-5 minutes… but the interface and 3D touch will work well, without problems.
2.- Enciende iPhone 7/7 Plus, te llevará entre 4-5 minutos … pero la interfaz y el toque 3D funcionarán bien, sin problemas.


Don't forget: No te olvides:
After finish the LCD screen installation, you could make aphone call in order to check if the sensor works well.
Después de terminar la instalación de la pantalla LCD, puedes hacer una llamada de teléfono para verificar si el sensor funciona bien.