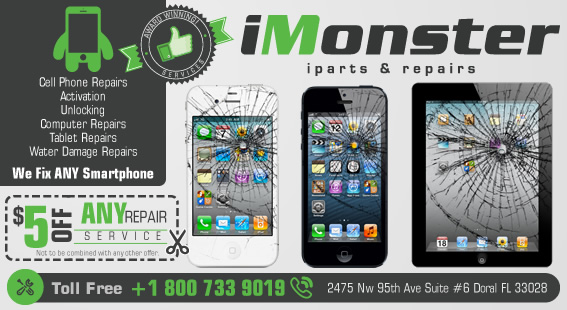 iMonster Parts Florida – About
iMonster Parts® is one of the largest suppliers of Apple and Samsung replacement parts throughout South Florida and South America. Our company also offers various services such as smartphone and computer repair services.
We carry a full line of replacement parts for iPhones, iPads, and iPods as well as other Samsung devices. iMonster Parts® is committed to providing their customers with top quality replacement parts, competitive prices, and extraordinary customer service.
iMonster Parts 360° View - Our Store
FEATURE PRODUCTS FROM iMonster Parts – CLEARANCE
SAVE UP TO 75% in iPhone Replacements Parts in our Clearance Sales sections.
We have specialist for restore & fix your broken iPhone, iPad & iPod. Exclusive y really fast services. Screen replacements, Lcd´s restoration, etc